Computer speakers are a worthwhile investment compared to the subpar sound of built-in laptop speakers. A good pair of dedicated speakers don't necessarily have to cost a lot or take over much desk space, but they'll certainly make your music listening, movie watching, or gaming all the more enjoyable.
The Build and Connectivity of Computer Speakers
Compared to their bookshelf brethren, computer speakers are generally smaller and more self-contained. Choosing a set with a subwoofer, or the option to add one later, will compensate for the speaker's smaller size and give you a bigger, room-filling sound, though you'll have to give up some space underneath or beside your desk. The most basic computer speakers simply plug into the 3.5mm audio jack on your laptop or desktop and don't offer much else in the way of connectivity. But as you get into higher-end speakers (say, in the range of $100 or more), you'll also find other options that can make them well-suited for a range of uses beyond your computer. USB and Bluetooth can connect to mobile devices, while an RCA input could accommodate a turntable or other piece of audio gear, and an optical port can let you use the speakers with your TV.
How to Set Up Computer Speakers
Most of the same rules for buying audio gear also apply to computer speakers. Specs like peak power and the size of the drivers can give you some idea of their capability, but they aren't the main thing to consider. What's most important is how the speakers sound, which can depend on a number of other factors—even including often overlooked things like how you position them on your desk.
You can find more detailed guides, but you'll basically want to make sure that the speakers aren't too close together or too close to a wall, and that they aren't just facing straight ahead. Space them out as far as you can on your desk and then make sure they're pointed at your ears. That can mean angling them upward slightly or setting them on some stands (or books), which has the added advantage of taking them off of your desk so you don't run into issues with vibrations or items on the desk obstructing the sound.
How We Selected These Speakers
In addition to our own experience testing some of these models over the years, we researched expert sources and 12,500 consumer reviews to select the top eight computer speakers of the year. To determine the Total Expert Score, we calculate the ratings from trusted publications such as Tech Radar, CNET, and PC Mag, and convert them to a 100-point scale to make it easier for you to weigh the best options. Our Consumer Score represents the percentage of consumers who rated the product at least 4 out of 5 stars on retail and review sites like Amazon, Best Buy, and manufacturers' websites.
—BEST OVERALL SOUND—
Audioengine A2+
Power: 60 watts | Connectivity: Bluetooth, USB, RCA input and output, 3.5mm, headphone jack | Dimensions: 6 x 4 x 5 in.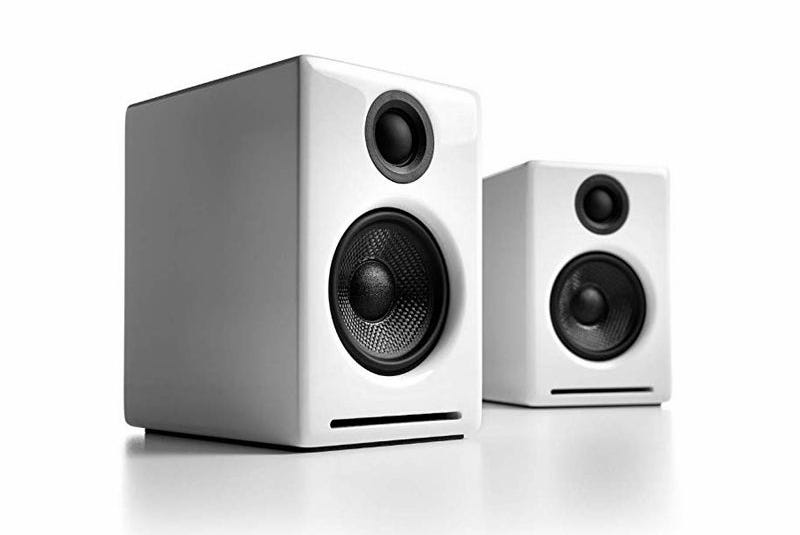 With warm, powerful sound and easy setup, the A2+ is a huge evolutionary leap compared to whatever is packed inside your laptop's aluminum casing. Of course, you can get even better sounding speakers if you're willing to step up in price, but the A2+ from Audioengine is tough to beat while still being reasonably priced for computer speakers. Packaged in a modern design, the A2+ speakers' real strength is how many ways you can connect to them. Bluetooth, 3.5mm audio jack, and dual audio inputs means these speakers will work no matter what your workspace looks like. The only downside is the low end might not be throaty enough for some. Luckily, Audioengine included a subwoofer output and sells some matching stands for $29, too.
—MOST VERSATILE—
Monoprice DT-4BT
Power: 60 watts | Connectivity: Bluetooth, 3.5mm, 1/4 in., RCA, headphone jack. | Dimensions: 6.1 x 8.7 x 7.1 in.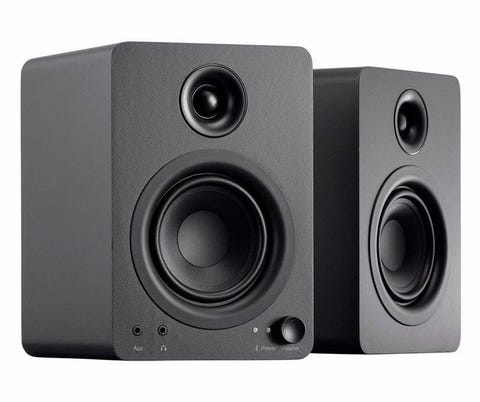 Monoprice is known for offering dependable, high-quality tech at an affordable price, and the company's range of speakers falls right in line with that. There are a number of different desktop models to choose from, but the DT-4BT series sits squarely in the middle of the pack and will likely hit the sweet spot of price and performance for most folks. The speakers are compact and look like a higher-end piece of gear than their price tag would suggest, and they offer all the versatility you could ask for. That includes Bluetooth connectivity, along with a range of other inputs and outputs to connect headphones and other audio gear in addition to your computer.
–STANDOUT LOOKS–
Harmon Kardon SoundSticks 4
Power: 140 watts | Connectivity: Bluetooth, 3.5mm | Dimensions: 10.7 x 3.3 x 3.3 in. (speakers), 9.1 x 10.9 x 9.1 in. (subwoofer)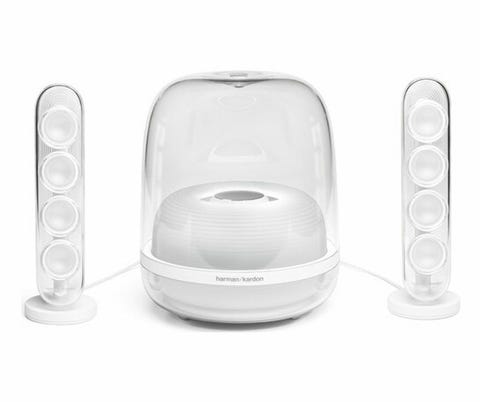 Harman Kardon's original SoundSticks were introduced 20 years ago and immediately stood out from the usual boxy, drab computer speakers. It's their sound quality as much as their design, however, that has continued to make them a popular choice two decades later. The recently released (hence no reliable Consumer Score yet) SoundSticks 4 get a slightly more streamlined design and updated internals for an even bigger sound, in addition to support for Bluetooth 4.2. As PCMag explains in its otherwise positive review, however, the subwoofer is meant to sit on your desk and houses all of the speakers' controls and ports. You can still put it under your desk or off to the side if you're cramped for room, but that means you'll be crouching down any time you need to adjust something.
—BEST VALUE—
Creative Pebble 2.0
Power: 4.4 watts | Connectivity: 3.5mm, USB | Dimensions: 5 x 4.5 x 4.5 in.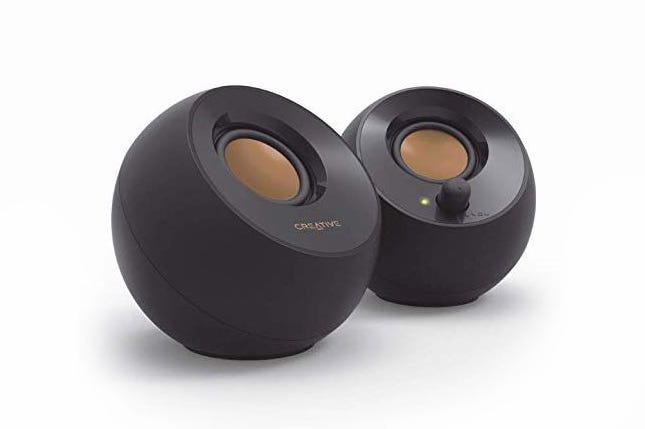 If you're not keen on making a big investment or just want a second set of speakers for your office, the Creative Pebble 2.0 offers the best boom for your buck. PC World claimed it produced better sound than most speakers that cost twice as much—even at higher volumes, where many less expensive models distort the sound. Though the Pebble is powered by USB, you'll still need to use the 3.5mm cable for audio. Features are expectedly sparse otherwise, but at just under 4.5-inches in diameter each, the orb-like speakers won't take up much desk space, and you can choose from black or white color options.
—GREAT SOUND FOR THE MONEY—
Mackie CR4-XBT
Power: 50 watts | Connectivity: Bluetooth, 3.5mm, 1/4 in. RCA, headphone jack | Dimensions: 6.1 x 8.9 x 8.3 in.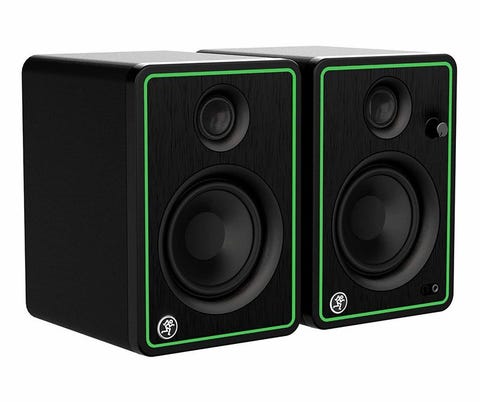 Mackie's CR4-XBT speakers are technically studio monitors—the kind generally used by musicians and audio professionals to get the most accurate, balanced sound possible for recording purposes. But they're also ideal for use as everyday computer speakers. The new CR4-XBT speakers are a modest update to the company's well-reviewed CR4BT series, and keep everything that made them so popular (build quality, connectivity) while also updating the all-wood cabinet with a new brushed-metal front panel. Since they're not strictly computer speakers, they're more versatile than many other options and include 3.5mm, 1/4 in., and RCA inputs in addition to Bluetooth connectivity.
—SUITED FOR GAMING—
Logitech G560
Power: 240 watts | Connectivity: Bluetooth, USB, 3.5mm | Dimensions: 6 x 6.5 x 5 in. (speaker), 16 x 10 x 8 in. (subwoofer)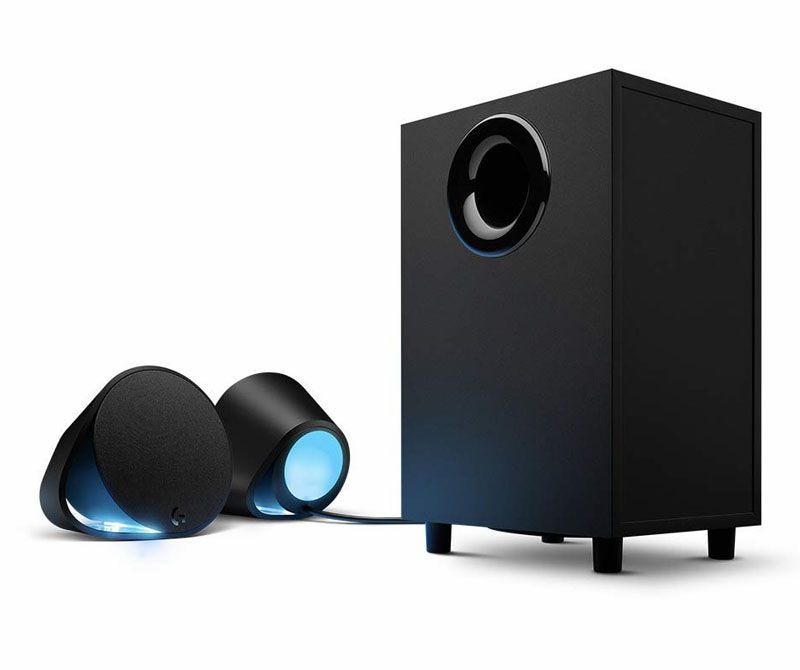 Because gamers love their LED backlighting, this can now extend to your speakers with the Logitech G560. PC Gamer found this feature to be more than just a gimmick, calling them an RGB lighting product that "might actually impact your PC gaming experience." With Logitech's screen sampler software, the speakers match their lighting to the color on your screen, projecting it onto the wall behind your monitor. Thankfully, the speakers sound great as well and boast a DTS:X Ultra virtual surround mode that impressively simulates a real surround sound system.